Rate This Video





|
Rated 4.1
Bow Connors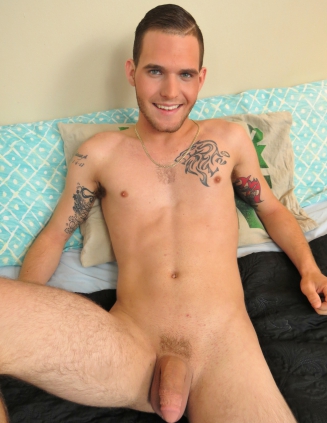 Lets welcome Bow our newest model on Boygusher.com site. Bow is a friend of
our last model Kenny and I was trying to place Bow and Kenny together for
this newest scene, but Bow considers himself straight and didn't want to
play with his friend but I did convince him to hang out and
sleep over. I think Bow is adorable and I wanted to fool around with him but
didn't have the balls to do it. I was up late on my computer and he fell
asleep an hour or two before I decided to call it a night. I went in to
check in on him and he was sleeping soundly on the bed tucked underneath the
covers just wearing his undies. I wanted to see if he was awake so I started
rubbing his crotch. Bow didn't even stir, so I started playing with his
nipple because I was certain this would wake him up. He didn't stir, so I
went back down to the goods and started unbuttoning his pants. With
Brandon's pants unbuttoned, I started to play with his cock through his
underwear and still didn't get a response. At this point I assume he is
awake and doesn't want me to stop. After playing with him through his
underwear for a few minutes he woke with a smile on his face, which I took
as an invite to go further by pulling his undies off. Now that he was awake,
I went ahead and pulled his cock out of his briefs. Bow is a perfectly
smooth guy with a pair of shaved and silky balls and a beautiful cock.
Throughout the hand job I'd hit the right spot and he'd get an adorable
smile on his face. I must have been doing something right because his cock
was rock hard. I just happen to have some poppers so I handed him the bottle
and take a few hits. He's never did poppers before so as he took a few
sniffs, his cock got harder and I tease and stroked faster on his cock which
drove him crazy and he was having an outer body experience at this point.
After his popper high went down, I continued stroking his cock but then I
told him to take a few more hits and I introduced the fleshjack. I can tell
by his moans and his body movements, he was really enjoying both the poppers
and the fleshjack as I pumped his cock as he was getting closer to cumming,
he started to shift around a lot as I continuously hit his pleasure points.
Bow began getting rock hard and moving his hips as I picked up the pace and
as his cock got more sensitive, he grabbed hold of his cock and started
jerking it really fast which brought him closer to ejaculation. He kept
jerking harder and harder as I played with his balls and I was rubbing the
base of his cock, then I took a few strokes then he came all over my hand,
while still moaning! Now that we've broken the ice, I hope he comes back
again soon! If he does, I'll defiantly try to get more videos shoots from
him!