Rate This Video





|
Rated 4.1
Mason Jackson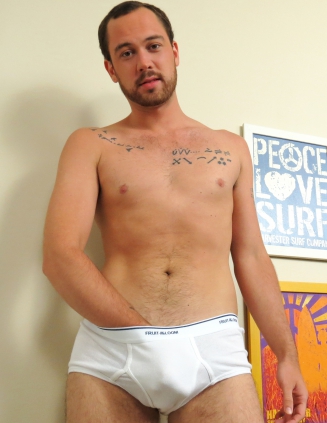 Today on boygusher we introduce you to Mason Jackson. Mason is a straight
curious guy who is 24 years old and gets into oral and handjobs with girls
so this will be his first attempted with a guy. I contacted him off of a
dating site and we were chatting and I invited him over to hang out. As the
night got longer we were watching some porn together and I told him that I
like to creep on guys while they sleep. Although a bit strange to him, he
went into the guest bedroom and took a nap before long it was already 2am in
the morning hour and I was so tired I went to bed and I decided to check on
him in the morning hour and creep up on him as I rubbed his chest and tummy
as I worked my hands around his bulge feeling his cock in his undies. He
woke up not expecting it to be light outside and that I started feeling him
up and he didn't realize he was sleeping that long. He just laid there
enjoying his morning play. As I got a bit more daring, I slipped my hands
underneath the waistband to feel his cock and balls. Mason was really
enjoying his handjob as I stroked his cock but I wanted more. I removed his
undies and lubed up my hands stroking his cock and teasing his dickhead with
my hands and with my other hand feeling his sensitive nipples. I continued
to slowly tease his cock as it was now throbbing and twitching in my hands
as I can feel the build up of cum ready to burst. As I continued to stroke
and play with his ball sac, his balls get tighter and he was now pumping his
cock in my tight firm grip. I speed up my stroke and his cock got rock hard
and he let out a moan and the gusher of sperm spurted out of his cock
landing on my hand and his stomach.