Rate This Video





|
Rated 4.1
Adraen Bates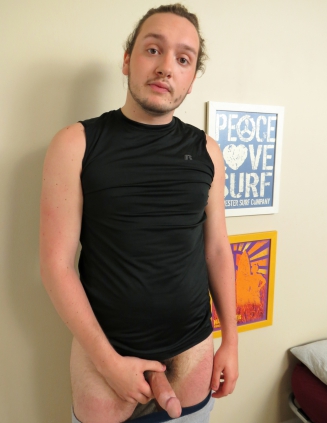 Adraen Bates is a young college football player appearing in his very first
porn video. Being 20 and shy and nervous he preferred that he do a solo.
This is his very first porn video he filmed so we understood and off camera
he told us that he never had a guy stroke his cock and when a guy sucks or
strokes his cock it takes him forever to cum. Mr. Hand decided to film
Andraen doing a solo so we can make him feel comfortable and not freak him
out doing his first porn shoot. Andraen is a husky otter 20-year old
straight boy with very limited experience and just experimenting with his
sexuality. Andraen coming from a small town and just moved to Florida to
start school next semester, doesn't have that much exposure to gay life or
gay experiences but loves watching porn and has his own sort of fetish of
sniffing used jocks from his team players. He was waiting for me to enter
the room and to my surprise, he fell asleep, he heard me enter the room and
started waking up and stroking his dick. He certainly is a grower as
Andraen's cock went from a small 2 inches to a strong throbbing 6.5 cut
cock. I can tell this boy loves to jerk off as he strokes his cock and
giving us a show of what 20-year old otter boy is made of.