Rate This Video





|
Rated 4.1
Romeo Cage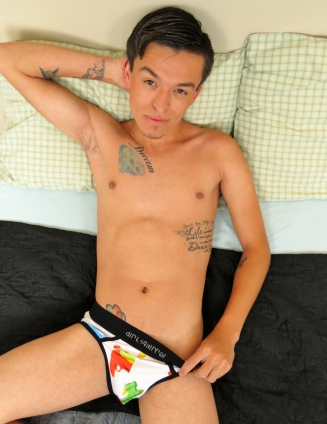 In this update we have with us Romeo. We invited over Romeo to stay with us
to watch the fireworks for 4th of July. We talked him into staying overnight
since it was late night and he drank a bit to much and we didn't want him to
drive home. We told him we have a surprise for him in the morning hour. Then
we talked him into letting us jerk him off for the cameras. He has a nice
smooth body and some really nice tats. He is definitely horned up as I
walked into his room to feel his body, he allowed me to touch him without
any hesitation and he seemed to be surprised at first but then allowed me to
feel him up . It doesn't take much to get his cock rock hard as well. Mr.
Hand really enjoyed jerkin on his cock and his talented hands had no trouble
turning this quiet reserved guy into a horned up sexhound. Mr. Hand got out
the lube and began to jerk him off and tease his cock. He takes his time and
gives that cock some double pumping action that drives Romeo nuts. As Mr.
Hand jerks and strokes the dick. Romeo was able to explode his cum several
times in a row and if that isn't a boy gusher then I don't know what is!