Rate This Video





|
Rated 4.1
Blaine Kross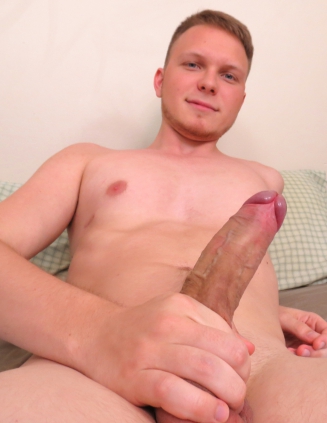 My name is Blaine and I am 20yrs old. I am straight guy just to find some
work over the summer. I stumbled across this ad for adult porn stars so I
applied, but it was for gay porn and wasn't sure if this was for me or not.
I slept over the producers house and I didn't sleep that much. All night
long I was horned up just tossing and turning, I did fall asleep but woke
horned up again so I decided to feel my cock. The producer wanted me to hear
tighty whites and I haven't wore them since I was a young kid, but I felt so
sexy in them that I was feeling my bulge and feeling myself up as I removed
my undies, I stroked me cock with one hand and playing with my balls with
the other. It felt so good since I didn't jerk off for several day so I
couldn't wait to bust my nut.  As I stroked my cock, it grew harder in my
hands as it throbbed and I wanted to cum so bad but I teased myself and
played with my balls and slowed down my stroking as I edged myself for a
while. My dick was getting softer so I stroked it faster and it sprung to
life as my balls tighten my body feeling tensed up, my body was shaking as I
let out a good grunt and spurts of hot jizz spurted out of my cock. My cock
was throbbing as I can feel the pulsing of my cock continue spurting out my
cum as I continued to stroke as my cock was still rock hard and ready for
more action!