Rate This Video





|
Rated 4.1
Grey Donovan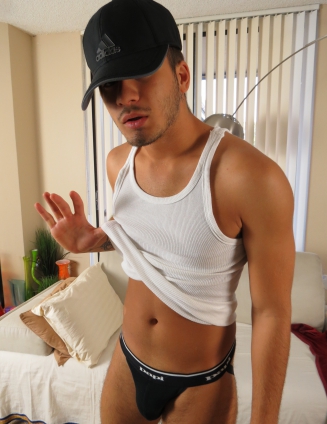 Today we welcome back Grey Donovan. This guy is as laid back as they 
come and we really enjoy having him here with us until you play with his 
sexy body and he likes walking around in undies or in this case his 
jockstrap. He just showed up got undressed into his jock and t-shirt and 
just flopped on the couch and proceeded to take a nap. I took the 
advantage of course and began to play with his toned body. I rubbed his 
chest making my way down to his tight jock running my hands over his 
bulge.  I slid my hand inside his jock and began to touch and stroke his 
cock gently. I'm pretty sure he was awake when I slowly pulled out his 
cock and started stroking his hard dick. I began to really work his cock 
over, and stroke it making it harder and harder. He was literally putty 
in my hands as he was enjoying his handjob. After awhile he started to 
moan and his pretending to be asleep vanished as he began to enjoy my 
hand stroking and jerking on his dick. I can say that I loved the 
thickness of this dick and how smooth his skin was, I couldn't stop 
touching his cock and balls and running my hands over his body while I 
jerked on his dick. It didn't take me long to make this boy cum. He 
started to moan and jerk and out poured his huge cumload. It drenched my 
hand and his pubs it was pretty damn amazing!